Here at R3 Data Recovery, we see all types of storage devices; hard drives, iPods, USB Sticks, mobile phones, we've seen them all. Most of what we see are mechanical hard drives.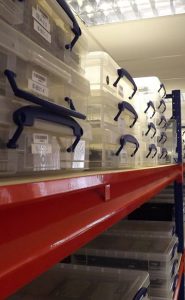 Mechanical hard drives come with different faults from media degradation to electronic, firmware or mechanical which is the most common type of HDD fault.
All hard drives will fail at some point even new disks or after years of faithful service, as a user, you will tend not to be able to know when a drive is failing until you get a mechanical failure when knocked, dropped or in some cases thrown on the floor.
When a drive is diagnosed in the lab it needs to be visually inspected inside a clean room to assess the damage that the drop/knock, for example, has caused. In all situations when a drive has mechanically failed the engineer will require a donor part for the recovery to be attempted.
Here at R3, we have a donor stock containing thousands of spare donor drives waiting to be used when they are required. They are given a unique numerical number and stored on an internal database, meaning searching for parts is quick and simple and after a job is confirmed to need parts apart is usually found in minutes meaning the process time is not slowed down.